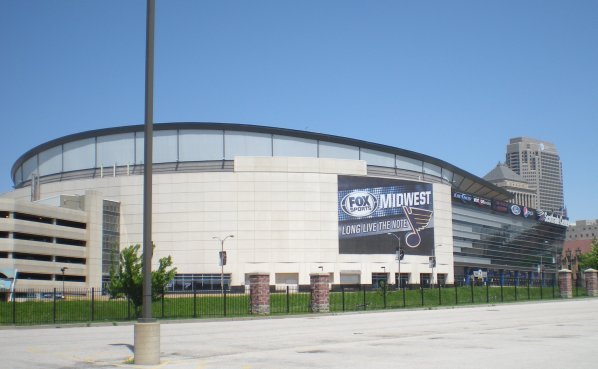 Above: Arch Madness takes place every year at the 19,150-seat Scottrade Center in Downtown St. Louis.

Arch Madness for Beginners


By John C. Thomas

(February 4, 2014) The first time I attended Arch Madness in March 2009, I was blown away by the atmosphere and the professional way one of the best conference championship tournaments in the country is conducted. I went back in 2011 and 2012, and thought: "My God, if only Loyola could somehow find their way into this conference…."

Arch Madness just about takes over downtown St. Louis every March, just as the weather is starting to break towards spring. Fans from every MVC team and local college basketball nuts converge to watch a four-day festival of college hoops. They fill restaurants, party at local watering holes, and poke good-natured fun at fans decked out in the sweatshirts, caps, and colors of opposing teams.
---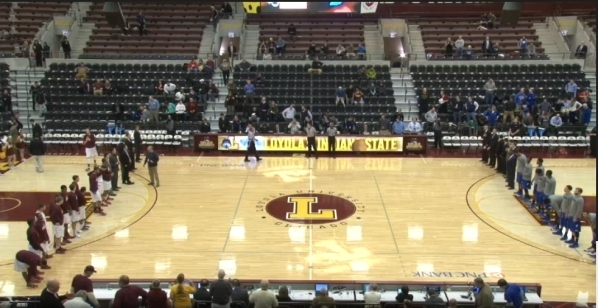 Above: Official attendance for the Indiana State game on January 22, 2014 was 1180. Through its first nine home men's basketball games on the season, Loyola is averaging only 1531 fans per game, less than half the next lowest team in the MVC.
Building Attendance

By John C. Thomas
(January 23, 2014) Through the hype, emotions and many adjustments involved in Loyola moving to the Missouri Valley Conference, a key component of competitiveness has obviously been neglected. Home attendance has plummeted. Some of it can be chalked up to some nasty winter weather, and quite a lot to one of the least engaging home non-conference schedules in recent memory. But it's an embarrassing way to make a debut into a new conference.
Through its first nine home games in the 2013-14 season, Loyola is averaging only 1531 fans per game. That's down 34% from last year's average of 2335, and less than half the next lowest team in the MVC. In a league where attendance, game day atmosphere, and energetic rivalries are not only a point of pride, but a real source of strength for recruiting, fiscal stability, and personnel retention, Loyola's rotten attendance has become a running joke and source of ridicule throughout the conference.
---
Let Conference Play Begin

By John C. Thomas

(December 29, 2013) The MVC non-conference schedule is now fully completed, and a number of question marks about the relative strength of the Valley have been sorted out. There have been a few pleasant surprises in the league and a couple of disappointments—especially for Loyola fans.
The MVC wraps up non-con play as the 11th strongest conference in men's basketball, ranked just below the new American Athletic Conference (composed mostly of the football-playing former members of the Big East) and the Mountain West. The MVC comes in just ahead of the Mid-American-- having an exceptionally strong year with 11-0 Toledo—and the Horizon League ranked at 13th.
---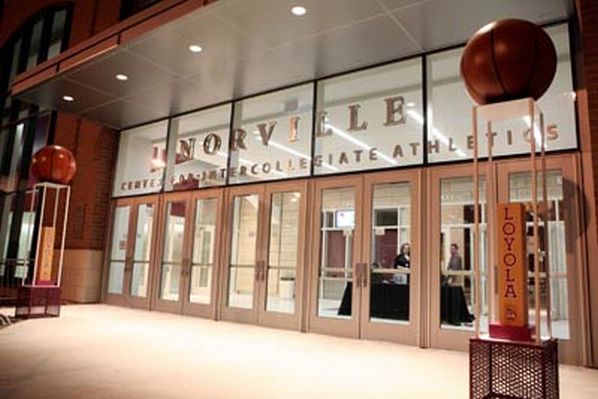 Men's Basketball Preview 2013-14

By John C. Thomas
(November 7, 2013) Since word first leaked out in April that Loyola would join the Missouri Valley Conference, most of the speculation on whether Loyola "belonged" in the new conference naturally focused on how the Ramblers would adapt to the new league in men's basketball.
Thus far, Loyola's fall sports teams have passed the test with sometimes flying colors. The Ramblers finished third in women's soccer before being eliminated in the conference tournament on penalty kicks. Loyola placed second in men's cross country, fourth in women's cross country, and won a major golf tournament over the majority of conference foes. Men's soccer currently stands in fourth place, and women's volleyball holds seventh place in a very competitive league.
---
Story and Features Archive